I had the opportunity to ask Csaba Mester about Sweet Meloncholy, his other visual artwork, and his music. - Ryan Conway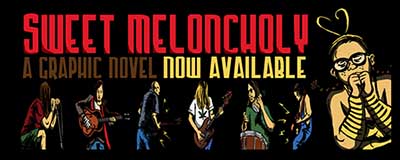 RYAN CONWAY: How did you become involved with the Sweet Meloncholy graphic novel?

CSABA MESTER: Well after finishing the grunge myths and facts book I ordered my own copy from lulu I looked around and found out that Greg Prato's book is also on the list ..so I got a copy -and started to read -the book is awesome ..actually the graphic novel idea popped after finishing the first chapters.. Got in touch with Brad on the Melon forum through a recommodation. . . he shared the enthusiasm and offered his help...for what I'm really thankful.


RC: How did you go about visualizing what kind of scenes to show throughout the book?

CM: Basically we wanted to picture the major historic events of the band and Shannon's life ,and also tried to pick interesting stuff from the story,and visualize,illustrate Melon songs then melt the three component together. The main goal was to make it simple but tried to recall the spirit of that great era of the 90s when the whole musical revival was happening There are special scenes in the book those were created in immaginary way after reading Greg's book,for other stuff I used archive pictures video scenes and tried to built them in context..Probably the hardest part for Brad after the inking was to organise the material put it in order and texting it.. but he did an excellent job..


RC: How did you first hear of, and become a fan of, Blind Melon?

CM: Actually I heard the band through a friend back in the early 90s .I was a bass player in the hungarian rock group called the Bedlam and Zoltan the singer had the first album on tape he played for me it was exactly that type of music we wanted to hear - then through MTV.. we saw the videos (Tones of Home, Soul One, No Rain) and became fans. We realized that Melon's music really had the qualities of the legendary bands of the 60's/70's and yet a step forward where actually today's music should be. . . dynamic Visionary and classic at the same time.


RC: Can you tell us about the bands that you listened to while growing up in Hungary, and what kind of music do you like to listen to now?

CM: My uncle gave me the first Beatles tape when I was 7 it was my daily lullaby when I went to sleep. I saw Rory Gallagher when he was touring in Hungary it was the first huge concert experience. I was only 13. Those musical experiences burned into me like stigmas.

Well back then growing up with my friends music had a special magic for us ,you know we were borned in the old communist system or block but at the late 80s the whole world had positive change and people and politics became more open minded. So music was kind of connected to freedom and the sense of it - we listened mostly old stuff AC/DC, Cream, Hendrix, Led Zeppelin, early Sabbath, Pink Floyd I still like those bands maybe it's a bit nostalgic but I think the sound of those albums is timeless. . .

Then around the 90's of course the Seattle thing happened and original bands like Satchel, Truly , Blind Melon, Screaming Trees, Mad Season joined to the list.

Nowadays I'm more into blues music and started to recollect vinyls from delta artists -Mississippi John Hurt,Howlin'Wolf,Son House...and still planning to do an informative comic about those "not so famous" blues heroes, but also like the new Soundgarden, Mark Lanegan,Walking Papers,and Microdot Gnome (Gary Lee Conner), Abandone Jalopy songs, and Black Crowes, Buffalo Killers, releases...and there's a very talented group called Science! I'm totally hooked on their stuff too.


RC: What visual artists inspire you?

CM: I like the action paintings of Jackson Pollock and also dig the street art of JM Basquiat - you know more psychadelic or out of this world type of art. . . I'm also a fan of northern tribal (Haida) native art. Have to mention Reinhard Kleist who did a black and white Johnny Cash comic I See a Darkness - That book is a treasure. It was also a great inspiration for the SM drawing process. I'd like to do something similar with the blues heroes comic.. a kind of realistic time travel....


RC: Besides illustration, do you engage in any other visual arts?

CM: I do paintings... though the selling never been easy for me ,I'm not a good businessman and seems like the interest really dropped for that kind of art I favour (maybe it's only truth for my country ). . . So I have a room full of pictures if anyone interested. . . who knows maybe one day it will be a profitable hobby.







RC: I know that you play music as well. What instrument do you play, and is there a place we can go to hear your music?

CM: I was a bassplayer in Hungarian underground bands like Bedlam and The Rain and also an acoustic group called Damn Natural.

My own stuff is here:
http://csabamester.wix.com/handcrafted-rusted

My son Christian he's 15 now-he plays harp and likes to pick on guitar as well. Have a dobro at home and a bass so I guess I'll record my own stuff with him. . . who knows. . . but right now school stuff has main priority...


RC: Let's hear about some of your other graphic novels. Where can people purchase copies of those?

CM: If anyone interested all of them are on www.lulu.com





Keep Portland Weird
Grunge Myths and facts
Story of Alice in Chains
Uncle Tom's Magic Sound (Tom Waits)
Northern Tale
Road Trip



RC: What projects (melon-related and otherwise) do you have planned for the future?

CM: I enjoy to work with Brad he's kind of steady in his art and has a really good eye& skills for graphics. We plan to do 2 other books one is called Visual Soundtracks - it's gonna contain illustrated songs from artists we both like (Cliff Burton of Metallica, Meat Puppets, Pearl Jam, etc.) The other one will be called a White kid's blues - it's gonna be a fictional folk blues story with Jack White. . . And of course we'd like to do other Melon related stuff in the future. Maybe it will be a vigil poster or whatever pops up next. . . I'm opened to ideas. . . It's always a joyful process.


RC: Thank you for teaming-up with Brad Weitz to make such an awesome graphic novel (Sweet Meloncholy) for melonheads, and thank you for taking the time to answer these questions.

CM: Thanks. . . and also great thanx to Melonheads (the greatest community). We've got so many positive responses. . .